By John Campbell
BBC News NI Economics & Business Editor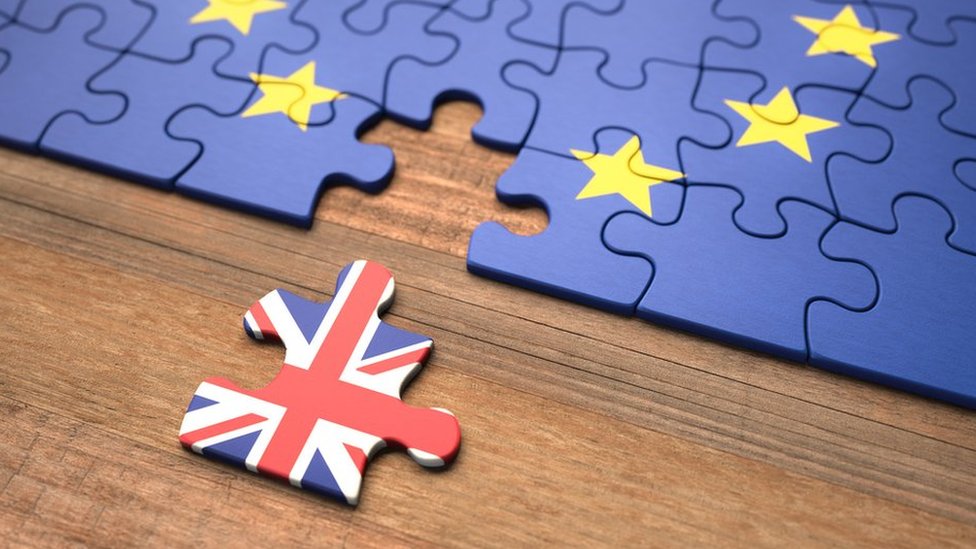 The Brexit transition period ends on 31 December, which will mean big changes to Northern Ireland's economic relationship with the rest of the UK.
However, there are still many unanswered questions.
What is changing?
At 23:00 GMT on 31 December, England, Scotland and Wales will leave the EU's single market for goods. Northern Ireland will not.
The EU's customs rules will also continue to apply at Northern Ireland ports.
This is a consequence of the withdrawal agreement reached by the EU and UK in 2019.
It will mean a significant amount of new red tape on Great Britain to Northern Ireland trade.
Customs
All commercial goods entering Northern Ireland from GB will need a customs declaration. This will be the case even if the UK and EU reach a trade deal.
A government adviser who is working with Northern Ireland businesses estimates there will be up to 30 million customs declarations a year on GB to NI trade.
Will businesses be ready?
The government is spending more than £300m on a Trader Support Service to help businesses with these declarations.
But senior civil servants at Stormont who are dealing with Brexit preparations are concerned that small and micro businesses on both sides of the Irish Sea are unprepared.
Will the IT systems work?
The main customs IT system, CDS, will have to interact with new systems for hauliers and the trader support service.
The government says all these systems are either live now or will be shortly.
But this leaves businesses with very little time for testing and training.
Some industry experts are sceptical about whether it can all work smoothly in January.
What about online shopping?
EU guidance published earlier this year suggests that the majority of parcels entering NI from GB will need customs declarations.
The UK government has been almost entirely silent on this matter.
So it is not clear if declarations will be required, what form they will take or what it will mean for parcels companies and their customers.
Amazon has published a comprehensive guide for its sellers on the new procedures on GB to EU trade.
But so far there is no specific guidance for GB to NI trade.
What about food products?
The EU has strict rules on which food products can enter its single market.
A piece of administration known as an Export Health Certificate (EHC) is central to enforcement of the rules.
Products of animal origin – meat, milk, fish and eggs – need an EHC to enter the single market.
EHCs are an expensive piece of administration, signed off by a vet, which could add thousands of pounds of cost to of a typical supermarket shipment.
A further problem is that for some products deemed high risk by the EU, such as chilled mince or sausages, no EHCs are available.
Supermarkets have warned that this will reduce the range of products in their NI shops and increase costs.
The UK government and the supermarkets are pressing the EU for a special light touch arrangement, but it is not yet clear if that will be granted.
Would a trade deal help?
It would largely solve one particular issue to do with the possibility that tariffs (trade taxes) could be imposed on some GB goods entering Northern Ireland.
The taoiseach (Irish prime minister) has also suggested a deal could pave the way to softening some of these new requirements.
He told the Irish Times: "People may be in a different frame of mind in terms of cutting people slack in terms of protecting the single market and all of that."
But again there are no guarantees this will happen.
Could the UK government act unilaterally?
If there is disruption to NI food supplies in January, it is possible that the government could trigger the safeguards clause in the Brexit withdrawal deal.
It states that if applying the deal leads to '"serious economic, societal or environmental difficulties that are liable to persist or to diversion of trade" then appropriate safeguards measures can be taken.
These measures must be limited to what is "strictly necessary in order to remedy the situation".
The government could also bring forward further legislation, similar to the Internal Market Bill, which would breach the terms of the withdrawal deal.