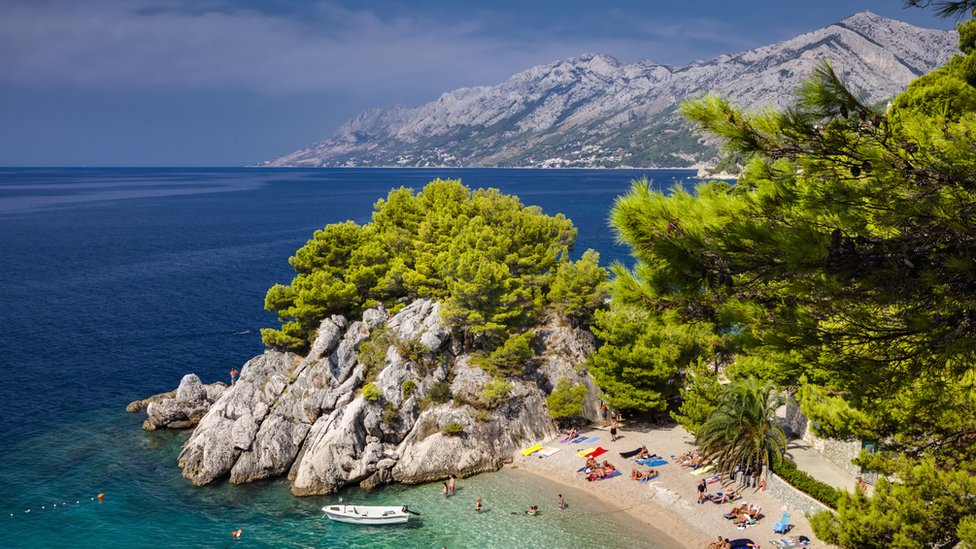 From Thursday, holidays both inside England and abroad will be banned until 2 December, as the government tries to stop a second wave of coronavirus from spreading.
The government has also said people must not travel to second homes either in the UK or abroad.
"Sadly… our message is people should stay at home," Cabinet Minister Michael Gove told the BBC's Andrew Marr Show.
However, people travelling for work or education are exempt from the new rules.
What if I already have a holiday booked?
If you've booked a package holiday that includes flights and accommodation abroad, then you are entitled to a full refund.
However if you booked flights yourself and your airline chooses not to cancel them, you could lose your money, according to the consumer group Which?.
Johan Lundgren, chief executive of EasyJet, said "it is likely" that much of EasyJet's UK schedule will be cancelled during lockdown, with flying set to resume in early December.
British Airways said all passengers booked to travel during lockdown can change the date of their flights without being charged. Alternatively, they can cancel the booking and take a voucher that can be put towards future flights.
Many airlines urge customers not to try to contact them – they say passengers will be notified about changes to their bookings once more detail is made available from the government.
Meanwhile, TUI advised that customers will be refunded in full or offered a credit note for holidays or flights that can't take place.
Will I get my money back?
Which? has warned that not all travel companies met their promises to refund passengers after the first lockdown began.
"Millions of people were left struggling to get refunds for cancelled flights and holidays when the government banned international travel back in March. Many still haven't been refunded," said Rory Boland, Which? travel editor.
"As travel restrictions are re-introduced in England, the government and regulator must do a better job of ensuring customers aren't again left to bail out companies through refunds being unlawfully withheld," he said.
What if I'm on holiday already?
The government is not requiring people already on holiday to cut short their trips.
"British nationals currently abroad do not need to return home immediately," said a government statement.
Those on domestic holidays in England don't need to rush home either. But the government warns that – because of the new coronavirus restrictions – restaurants and leisure venues will be closed from Thursday.
A government statement said: "Those currently on a domestic holiday will be allowed to finish their holidays, but are still subject to the requirements in England not to go out without a reasonable excuse".
What about people travelling to the UK?
Foreign nationals planning to arrive in the UK from abroad between 5 November – 2 December may still do so, however they will need to follow the appropriate lockdown rules in England, Scotland, Wales or Northern Ireland.
Anyone arriving in England from abroad will need to quarantine for two weeks if they are coming from a country that isn't on the official travel corridor list.
The ban on upcoming holidays comes just days after the government added the Canary Islands to the travel corridor list, meaning holidaymakers could travel there without having to self-isolate on their return – a move that was regarded by some as a lifeline for airlines and tour firms already struggling from the pandemic.
"The UK Government should surely have seen a week ago that it shouldn't have been reopening travel corridors if there was a possibility that it would need to then completely reverse that decision and implement a lockdown," said Emma Coulthurst from the holiday price comparison site TravelSupermarket.
Should there be a financial rescue package for the travel industry?
The first wave of coronavirus – and the travel restrictions that followed – have already caused huge financial damage to companies that rely on tourism.
Industry groups representing airlines and airports say financial support from the state is vital for their sectors' survival.
"Aviation has been devastated by the pandemic, and has essentially never had the opportunity to recover," said a joint statement by Airlines UK chief executive Tim Alderslade and the boss of the Airport Operators Association, Karen Dee.
"A ban on international travel means airlines and airports, already hamstrung by quarantine, are closed businesses and will require financial support now – which other sectors like hospitality have received – alongside a comprehensive restart package."
EasyJet boss John Lundgren echoed those calls: "The government's own statistics show that activity in aviation is already 90% down on pre-pandemic levels, yet to date the government has still failed to provide any sector specific support," he said.
"A government financial support package for UK aviation companies must be provided now."
Last month, EasyJet warned it faces losses of more than £800m this year – the annual loss will be the first in EasyJet's 25-year history.